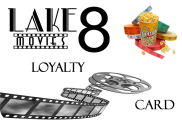 Check Loyalty Points Here
Rewards
​For every 150 points earned you receive:
One FREE Movie Admission, One FREE Small Soft Drink and One FREE Small Popcorn
At 50 points you can redeem your FREE Small Popcorn

At 100 points you can redeem your FREE Small Soft Drink

At 150 points you can redeem your FREE Movie Admission
Rules and Regulations
Membership is open to all guests 13 years of age and older. Employees of Lake 8 Movies and their family are not eligible. Any other exclusions will be at the sole discretion of Lake 8 Movies.

Limit of one Loyalty Card per email address.

Loyalty Card Members may receive special offers, notices or updates via email.

Lake 8 Movies will not share any member information at any time.

Lake 8 Movies Loyalty Card must be presented to the cashier prior to making purchase

One point is earned for every dollar purchased at either the box office or concession stand. Maximum 50 points per card per day.

For the purpose of calculation, points will be rounded to the nearest whole dollar.

Points cannot be earned by purchasing gift cards. Points are earned when gift cards are redeemed for purchases.

Lake 8 Movies Loyalty Cards are not transferable.

Lake 8 Movies reserves the right to change, alter or discontinue the Loyalty Program or rewards structure at any time without notice.

FREE Movie Admission vouchers are not valid for showings classified as "Special Engagements" and may be restricted for the first two weeks of a film's release.